I probably don't have to tell you how competitive the marketplace is for lawyers on the Internet. Even if you're not competing for high-value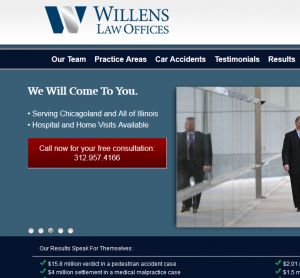 cases, it can be hard to show up in search engine results with the larger firms. And if you do want high-value personal injury cases like truck accidents, pharmaceutical liability, or product liability, you've probably tried just about everything, and haven't found a practical, affordable solution.
Quality content is part of the solution to your quandary. A combination of compelling content with genuine value will not only help you show up in search results, it will reach potential customers through social media. No matter what type of law you practice, I can help you get interesting content that will set you apart from your competitors. Please contact Writer MC  today for information customized to your state and areas of practice.
Website Content for Many Areas of Practice
I have worked with many types of lawyers, including personal injury, criminal, family law, immigration, and more. Here are a few examples:
Unfortunately, one of the reasons why I became a freelance writer is that the firms I worked for rarely let me write an entire website, so if you leave the pages I linked, you may come across content written by other writers. If you want more examples, I can give them to you by request. As I said on my website content gallery page, I have written thousands of pages, blogs, and articles, and probably a quarter of them or more were for lawyers. If you are a lawyer who needs content on a particular area of law, I have probably written about it not once, but dozens of times.
Legal Accuracy
Website content for lawyers poses many challenges, not the least of which is legal accuracy.
Your name is on your website, so your reputation is on the line. It has to be accurate. I understand this, and when it comes to writing your content, I never rely on Internet hearsay. I look at multiple sources, and often consult your state's code directly to make sure my content is accurate to the law where you practice.
I have written for lawyers in more than half the states of the Union and DC, so I understand how important it is to make sure your content reflects the actual laws in effect in your state.
Audience Sensitivity
People looking for legal help are going through tough times in their lives. Your content needs to show you understand this. Your website has to be sensitive to the challenges your potential clients face. It must give them hope appropriate to the promises you can make (and those you can't) and show your commitment and expertise in ways appropriate to your bar organization's advertizing rules.
Your content also has to be written in a way that average people coming to your website will be able to read it, while those looking for more detailed information will be satisfied with what they find on your website, which improves your SEO.
Compelling Reasons to Act
Although the US has a reputation as a litigious culture, you know that very few people with potential causes actually file lawsuits. Often it's the ones with the best cases that hold back because they don't want to be painted with the stigma that propaganda has put on lawyers and lawsuits. Good people who are honestly hurt often need more reasons to finally contact a lawyer for help.
All this, and, of course, grammatical accuracy, high levels of fluency, and a unique approach to writing. To learn more about how I can help your website bring in clients, please contact Writer MC today for more information.